An Easier and Safer Way to Remove and Install Shafts on Wenger Twin Screw Extruders
Removing extruder shafts and screws requires planning, skill, and the ability to support heavy weight, especially if the screws have been in service. This process can become much easier - and safer - by using the Wenger Shaft Extraction Tool.
Designed and manufactured by Wenger, this device connects directly to the extruder head and uses a motor-driven screw mechanism to pull extruder screws straight and perfectly horizontal from the barrel until they are completely removed. The heavy duty, stainless steel cart supports the screws without the need for overhead support, forklift, or additional equipment. The cart can be easily washed to ensure proper sanitation.
The cart can be raised or lowered so that it is exactly level to the extruder. A control panel located near the extruder head provides operators with complete control of the extraction speed, and to stop the process if needed. When the extraction is complete, the cart (with screws securly in place) can be moved to perform maintenance or other activities. Using the Shaft Extraction Tool, you never need to worry about pulling screws at the wrong angle, or mishandling once they are out - that could result in worker injuries. Screws can be inserted back into the extruder using this same device.
Shaft Extraction Tool models are available to fit the following Wenger extruders:
TX-85

TX-115

TX-144

TX-168

TT-760, TT-3630 (Thermal Twin models) - in development
Customized designs are available to meet your unique requirements, contact Wenger at +1 785 284 2133.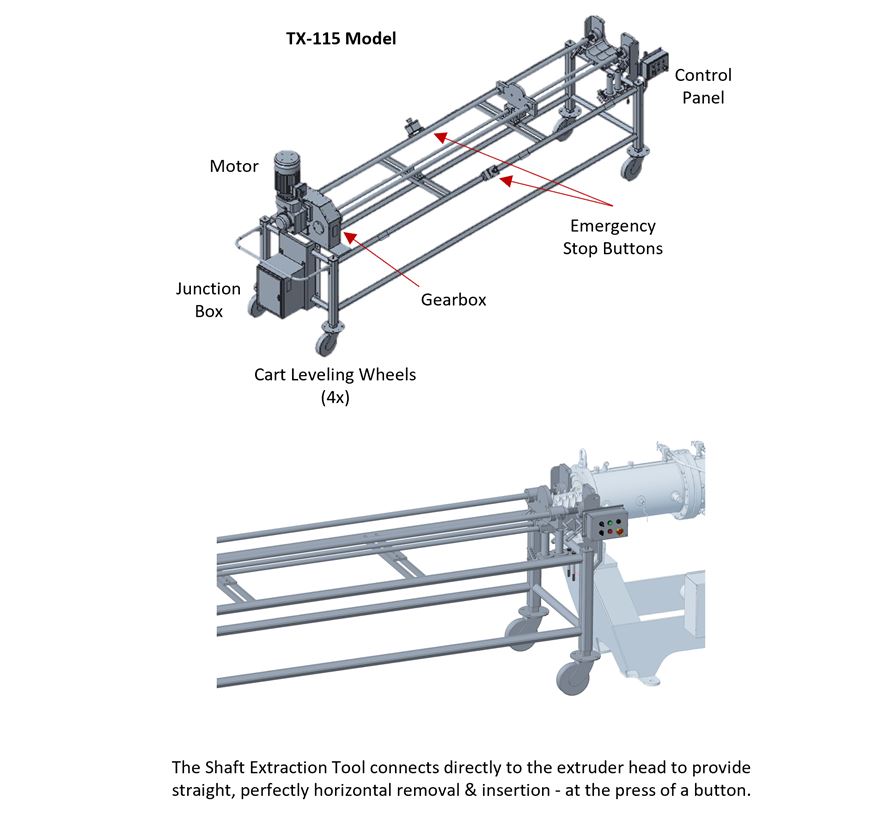 Talk to a Product Specialist
to discuss the feasibility, design and implementation for your project